A Boy was Born!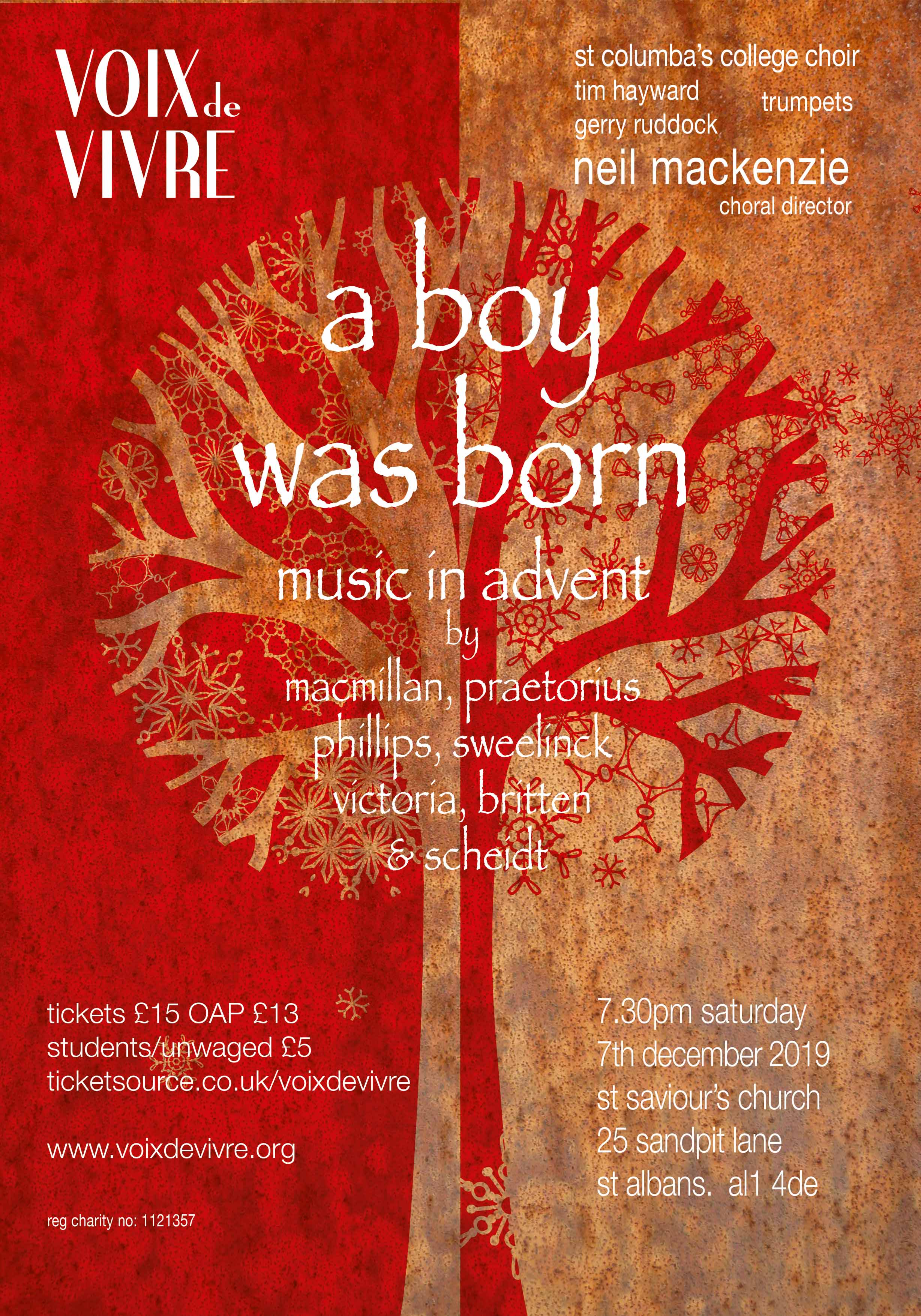 Our December concert was a proper challenge in true MacKenzie style. Five of Sir James MacMillan's gorgeous Strathclyde Motets, plus four challenging Christmas and Advent motets by Victoria, Sweelinck, Scheidt and Peter Phillips – all this was crunchy enough, and the first half of the concert went off really well. Gerry Ruddock and Tim Hayward on piccolo trumpets accompanied us in Scheidt's In Dulci Jubilo, making a glorious and electrifying sound, and Tim also played from the pulpit in MacMillan's In splendoribus sanctorum. And the two of them were joined by our own Peter Twitchin moving seamlessly from singing tenor in the choir to play the chamber organ in Vivaldi's lively Concerto for two trumpets.

The main work in the second half was A Boy was Born, an incredible tour de force by the 19-year-old Benjamin Britten consisting of a theme and variations, some of them of an extraordinary and growing complexity which had really challenged us in rehearsal. We were joined by the boys' choir of St Columba's College to sing the top line. We'd had very little time to rehearse with the boys and unfortunately their numbers were reduced by illness, which had also taken out the intended treble soloist.

So we girded up our loins and started, having laid off the mulled wine in the interval (destroys the sense of rhythm). The theme was fine – no problems there. The sopranos had to negotiate a tricky transition into Variation I (Lullay Jesu) – a relief when we were safely past that into cradle-rocking mode, although the cradle might have rocked a little irregularly towards the end of the movement. In Variation II (Herod) the men sang lustily and were definitely both "wild and wode". In Variation III (Jesu, as thou art our Saviour) our own Ruth Potter bravely stepped in to sing the treble solo. Variation IV (The Three Kings) was a fairly stately progress for the Magi to Bethlehem, followed by Variation V (In the bleak midwinter) for the female voices and boys' choir – a fantastic evocation in sound of snow falling quietly in a chill midwinter night. Gulp – now for Variation VI, and last – Noel! This feels to the singer like a roller-coaster ride, where if your concentration dips for a second you fly off and can never get back on again. And just when you think it's about to end it takes off again up another slope with an even more breakneck drop the other side. Some of our singing might possibly not have been in quite the key that Britten intended but it was certainly animated and we did all reach the end at the same time.
In the words of John Manning in the Herts Advertiser: "It showed this fine choir at its best, even at the end of a concert of sometimes difficult music, and provided a fine start to the festive season. In all the evening was one of outstanding music, delightfully sung by a group of very experienced and well trained singers under an equally fine director."
Next stop the King William the Fourth public house!
Catharine Jessop
Voix de Vivre in Hungary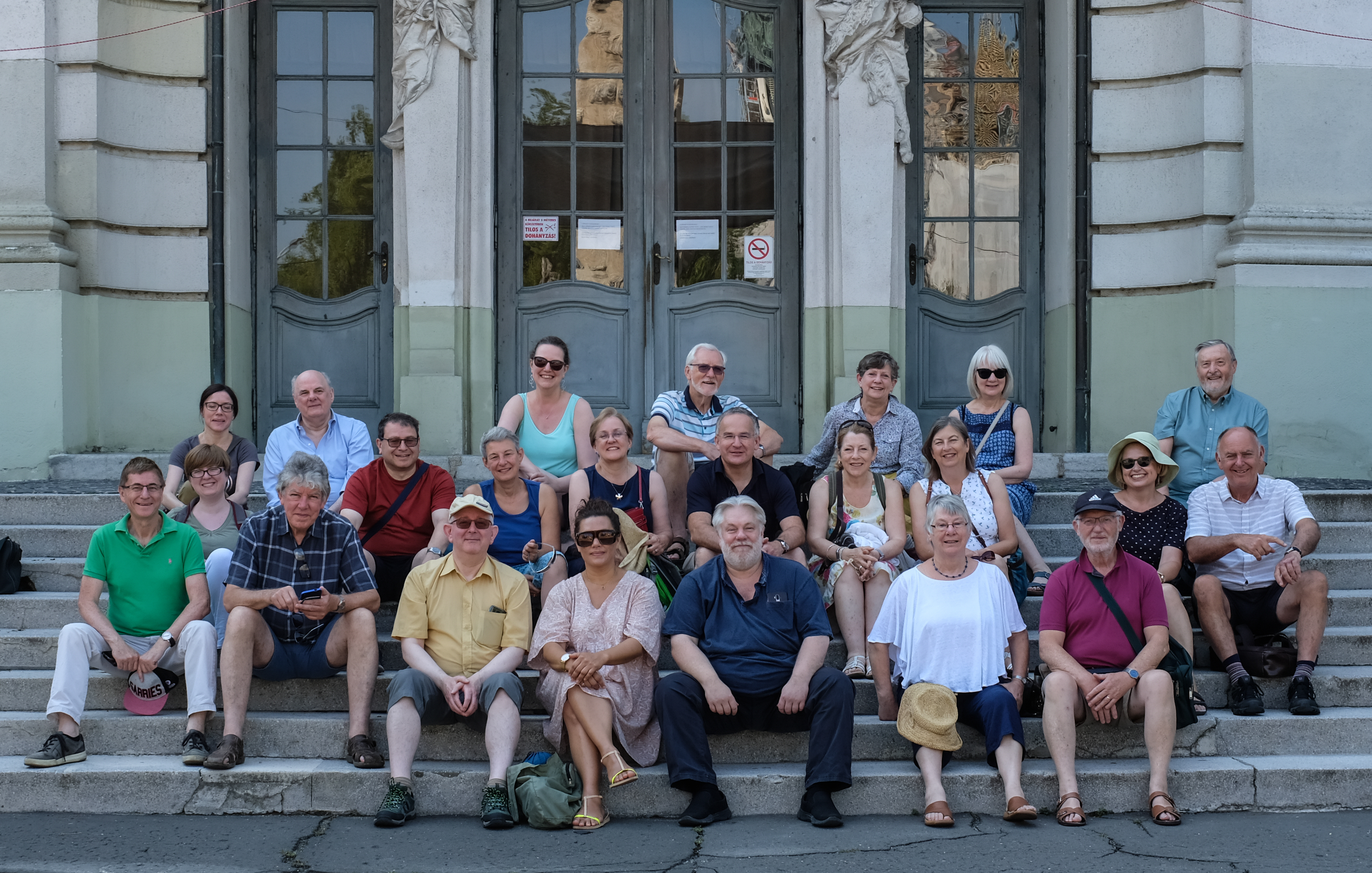 In July 2019, 22 Voix de Vivre singers set out for Kecskemét in Hungary to take part in the International Kodaly Music Festival, a great honour for us and a landmark in the choir's history as it was our first ever foreign tour. Most of us flew in, and some intrepid travellers arrived by train, late for the first beer.
We were superbly hosted by two local chamber choirs – Cantus Nobilis, who we already knew from their visit to the UK two years ago when we shared a concert, and the newly-formed KEK (Kecskeméti Énekes Kör) choir with their charismatic conductor Peter Erdei. KEK welcomed us to our concert venue, the baroque Piarist church, with two fabulous songs by Kodaly, which set the bar pretty high for us! But the capacity audience were really appreciative of our British programme, featuring glories of British music from Byrd to Macmillan, under Neil's typically inspired direction. We were glad we'd been warned in advance that in Hungary a slow handclap is a sign of particular appreciation!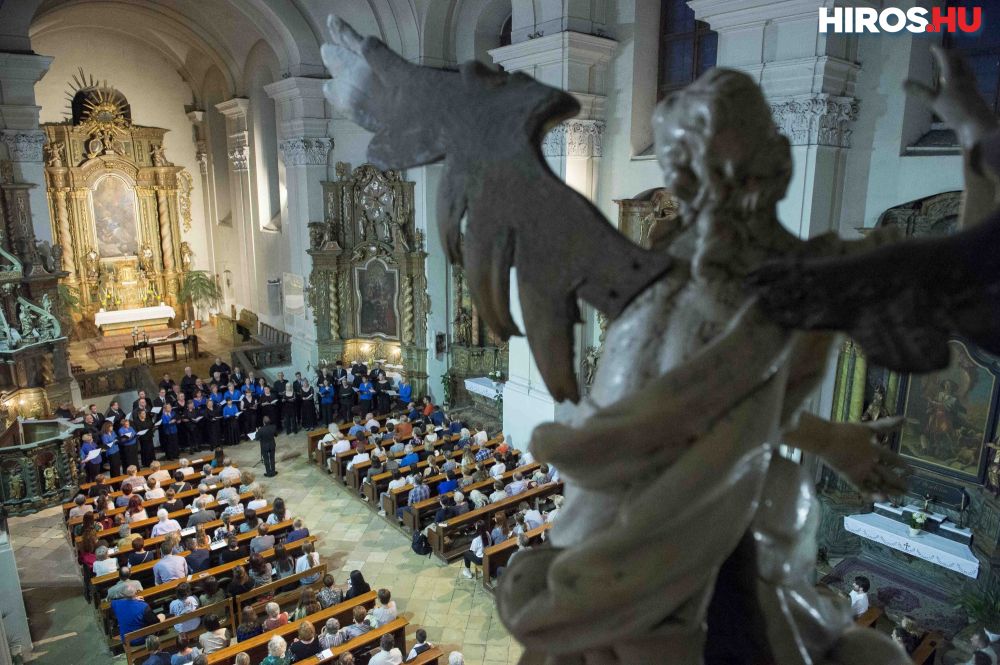 Local press review by Varga Géza, hiros.hu
The Kodály Arts Festival continued on Friday night with a concert by Voix de Vivre. This chamber choir from England in collaboration, this evening, with members of the Kecskemét Singing Circle presented a programme including compositions by Byrd, Tallis, Stanford, Holst, Britten and Zoltán Kodály. In every minute of the concert, one could feel the opening phrase of the anthem of William Byrd's Psalm 81: "Sing joyfully."
…..Voix de Vivre sang with visibly enormous, heartfelt joy. One noticed throughout that all the members of this English chamber choir deeply felt the opening words of the first William Byrd piece: 'Sing joyfully'. After this beautiful composition by the 'father' of English music, under the guidance of Neil MacKenzie, they performed renaissance choral works and pieces written by English romantic composers.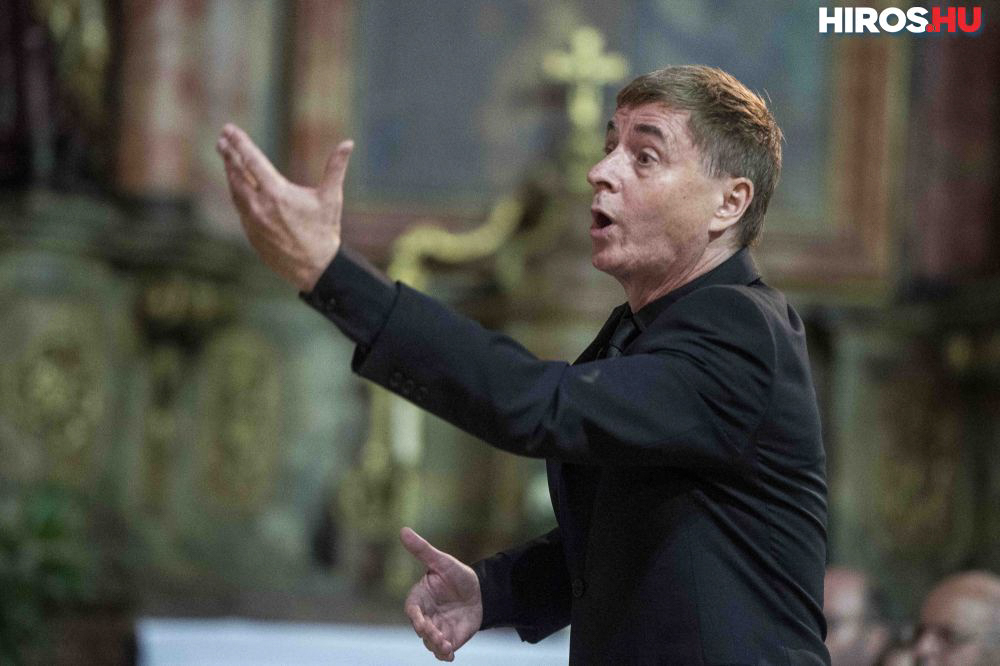 In the second part of the concert, the guest choir first performed late romantic folk songs and then twentieth century and contemporary works. James MacMillan's The Gallant Weaver particularly moved all those present. Composed to a text by Robert Burns, the Scottish national poet, this piece combined Scottish folk music and Celtic Psalms to produce one of the most distinctive examples of MacMillan's secular choral music. One could only listen with awe.
The uplifting closing number of the concert was a joint performance by Voix de Vivre and the Kecskemét Singing Circle of Henry Purcell's "Hear My Prayer, O Lord".
"Song makes life more beautiful, the singers make others lives too. There's not much point if we sing to ourselves, it's better if two get together. The more the better, one hundred, one thousand, and the great Harmony, in which we can all be one. Then we can really say: the whole world rejoices."Zoltán Kodály's thoughts - listening to Voix de Vivre's programme - are certainly known to members of this English choir. But if they weren't, then his truth was discovered and practised: their concert in Kecskemét testified to that.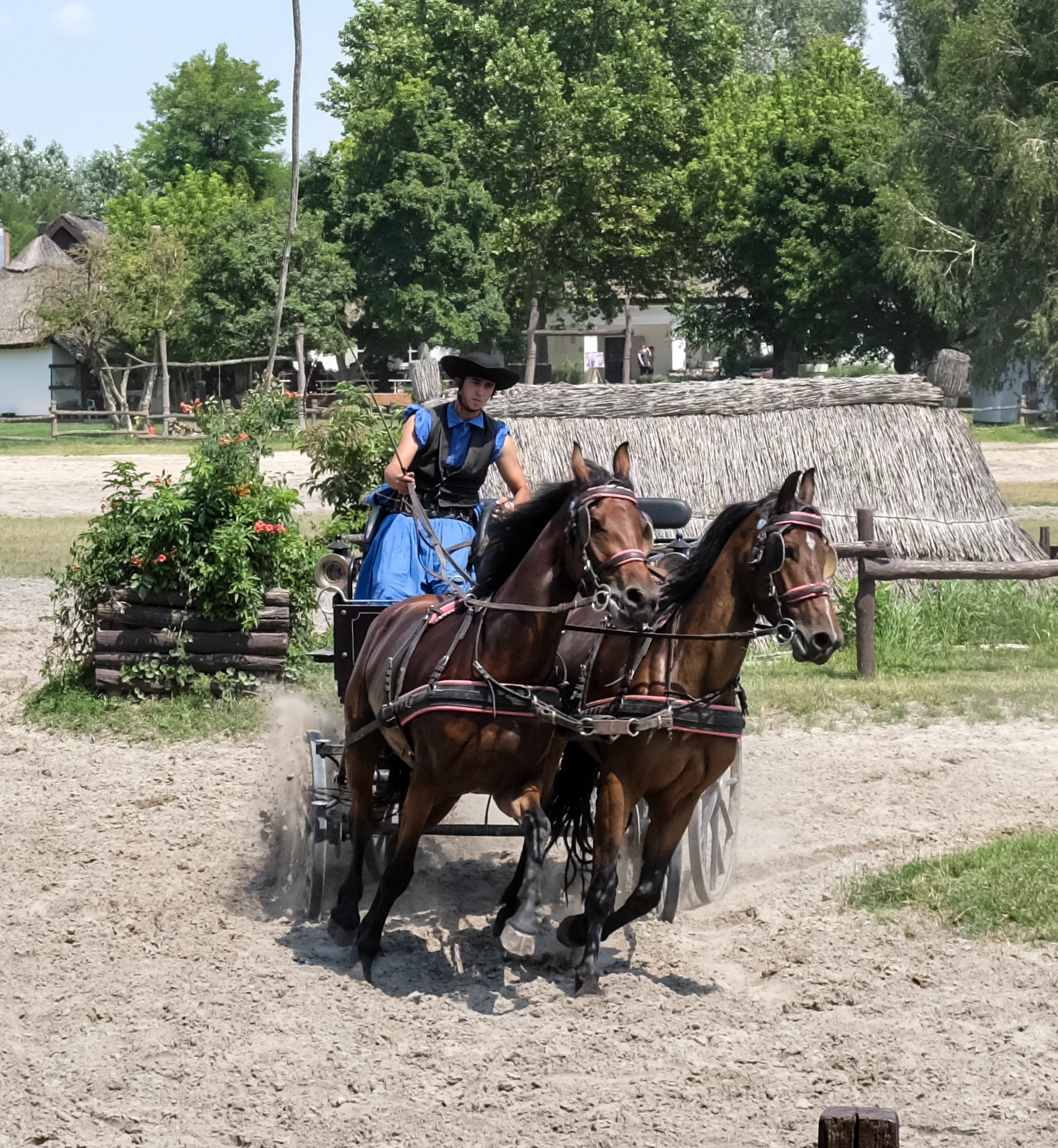 The day after our concert our new friends in KEK had organised a trip for us to a Hungarian heritage centre out in the country. It is very flat round there – the clue is in the name, the Great Hungarian Plain – but beautiful with fertile fields of grain and sunflowers stretching to the horizon, and woods of birch, plane and acacia giving welcome shade from the hot sun. We rode in horse-drawn carts, visited a preserved Hungarian peasant's cottage, ate goulash, made the acquaintance of pigs and turkeys, and were given a fantastic display of horse-riding and driving skills. Margaret maintained British honour by volunteering to mount one of the horses, thereby fulfilling an entry on her bucket list, to ride across the Hungarian plain!
We were all so grateful to the small group who organised this trip for us: Margaret, Lesley, Andrew and Neil, as well as to our Hungarian friends for their kind welcome – and we are sure it won't be the end of our Hungarian association!

"It was such a privilege for us to be singing at such a prestigious event."
"Kecskemét...we were struck by how beautiful it was."
"Cantus Nobilis Choir laid on a buffet supper for us…we were made to feel extremely welcome and the language barrier seemed to melt away."
"…amazing collection of folk instruments at the Kecskemét Musical Instrument Museum."
"… certainly an experience to remember."
Catharine Jessop (with contributions from other choir members)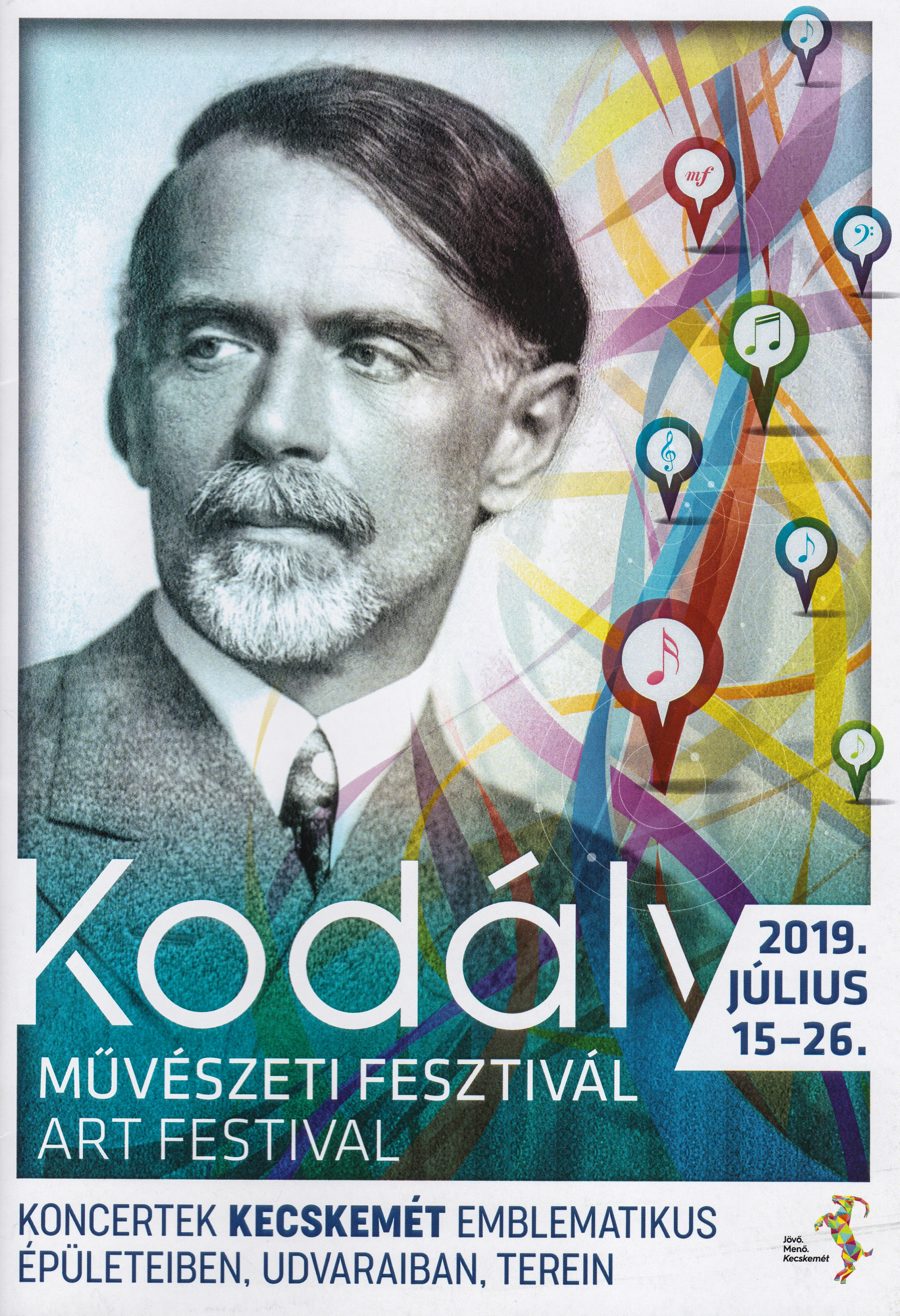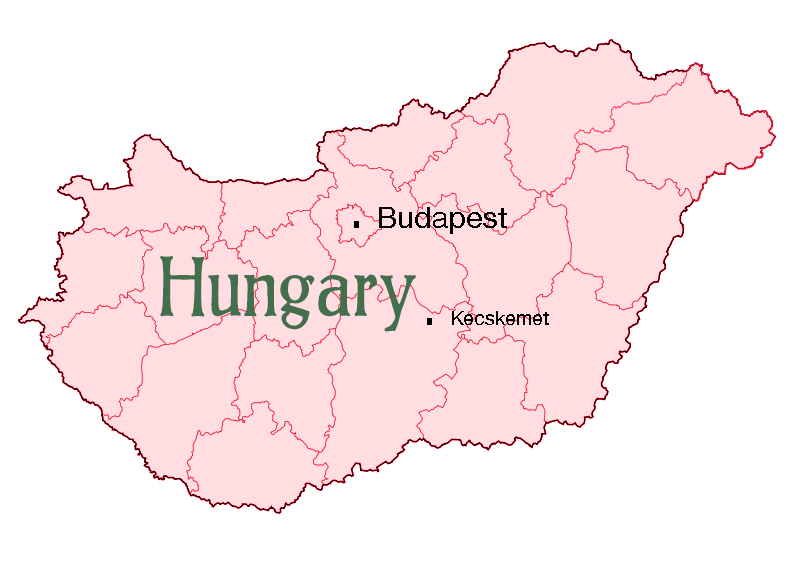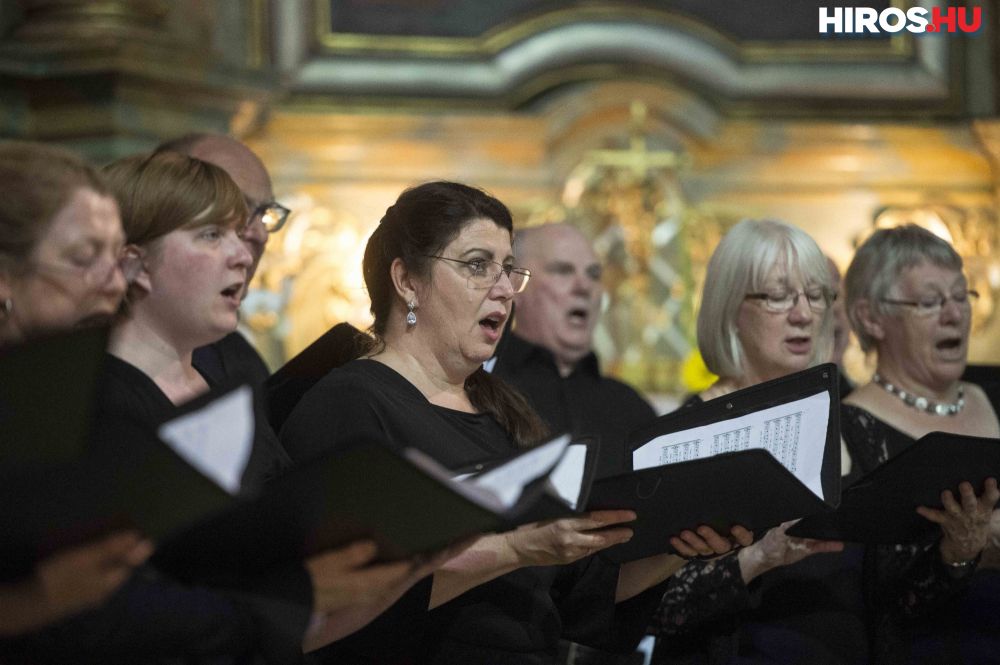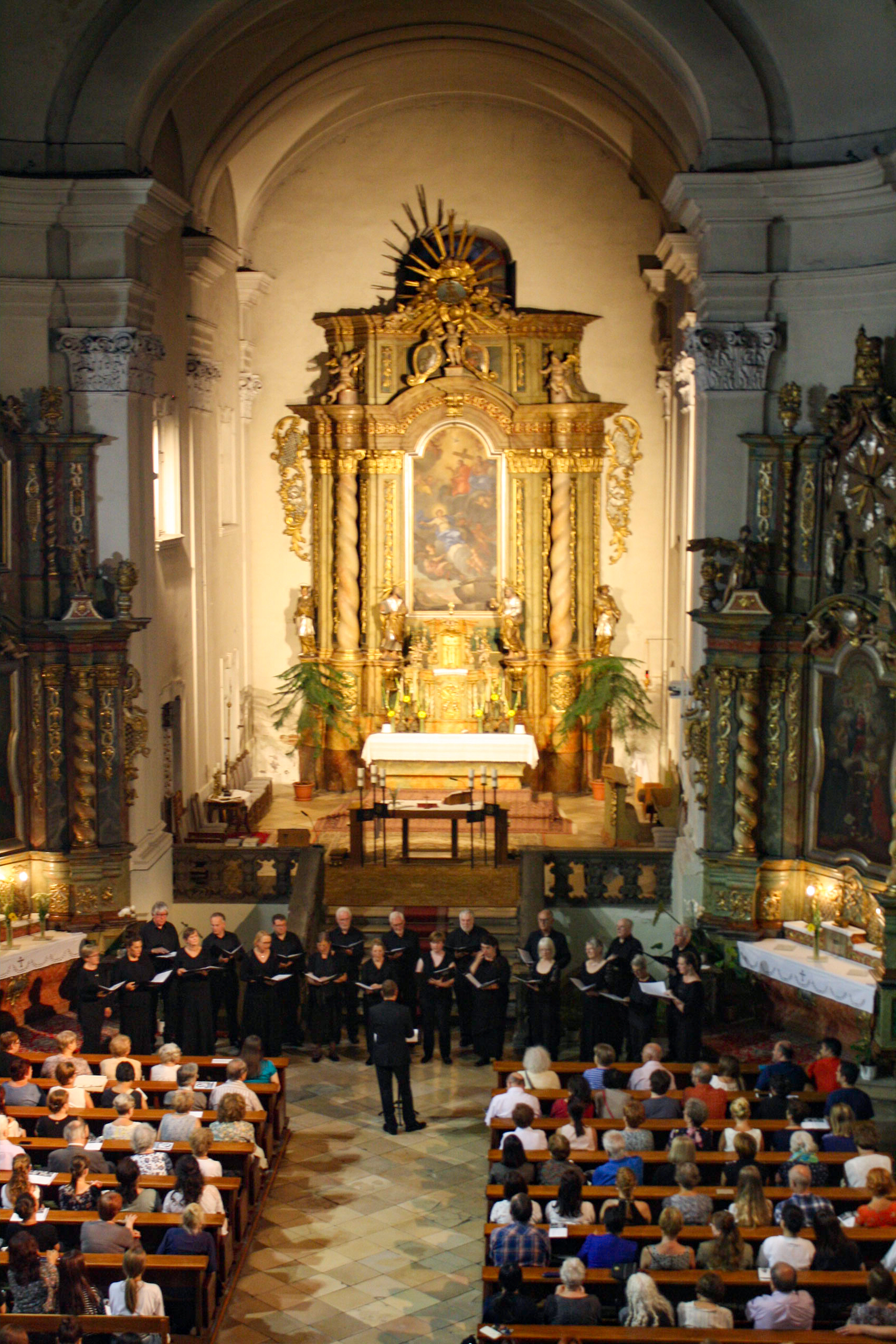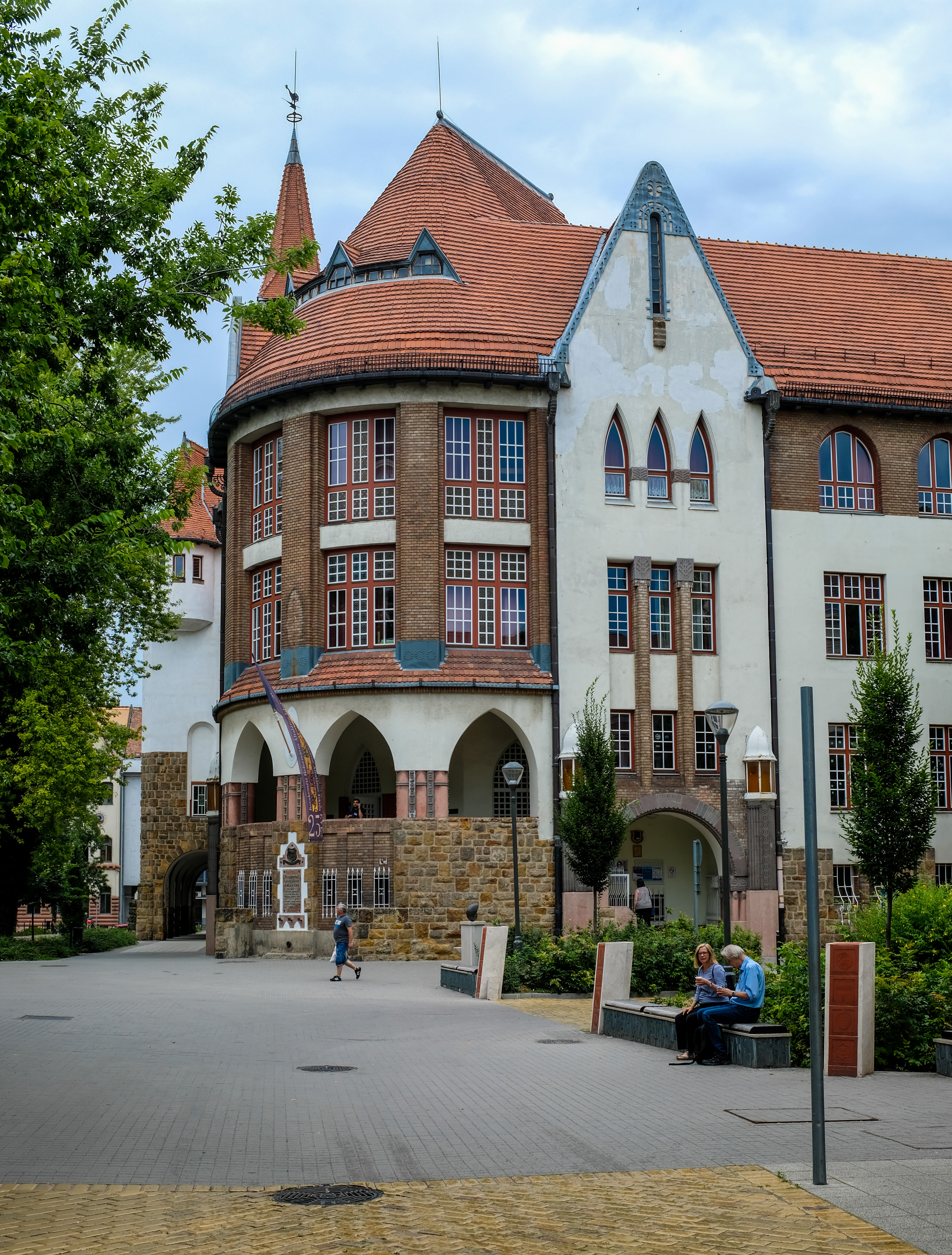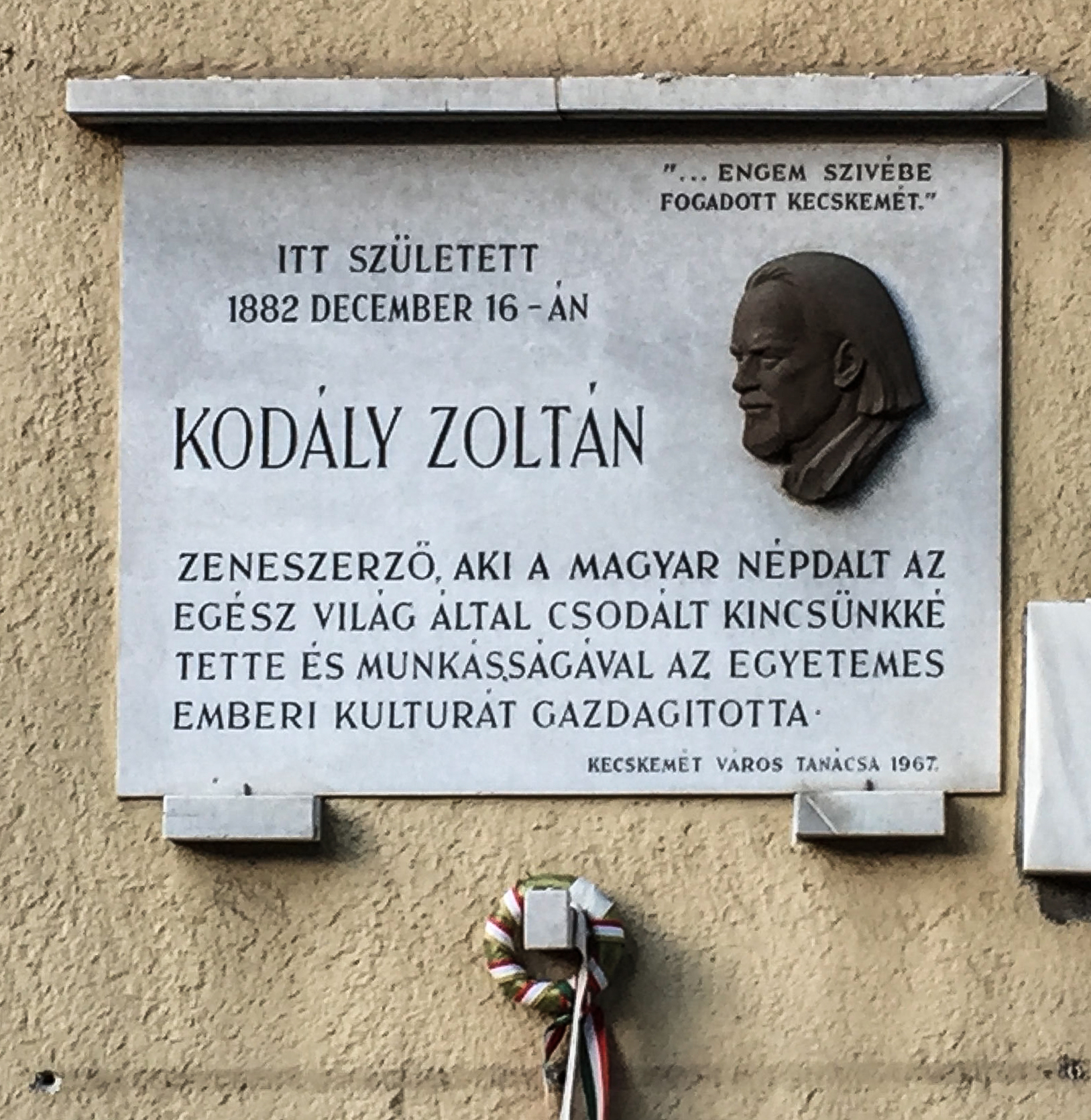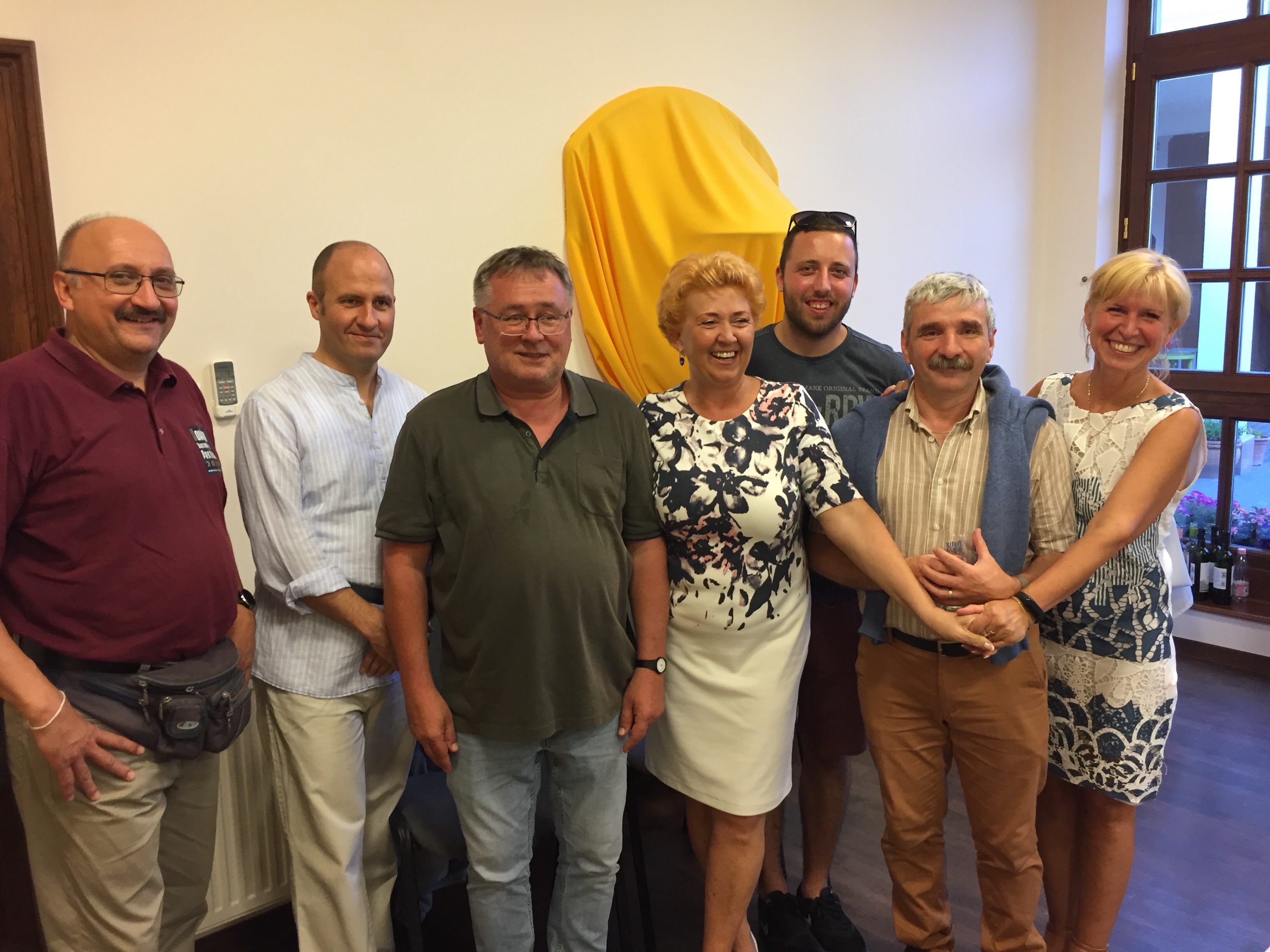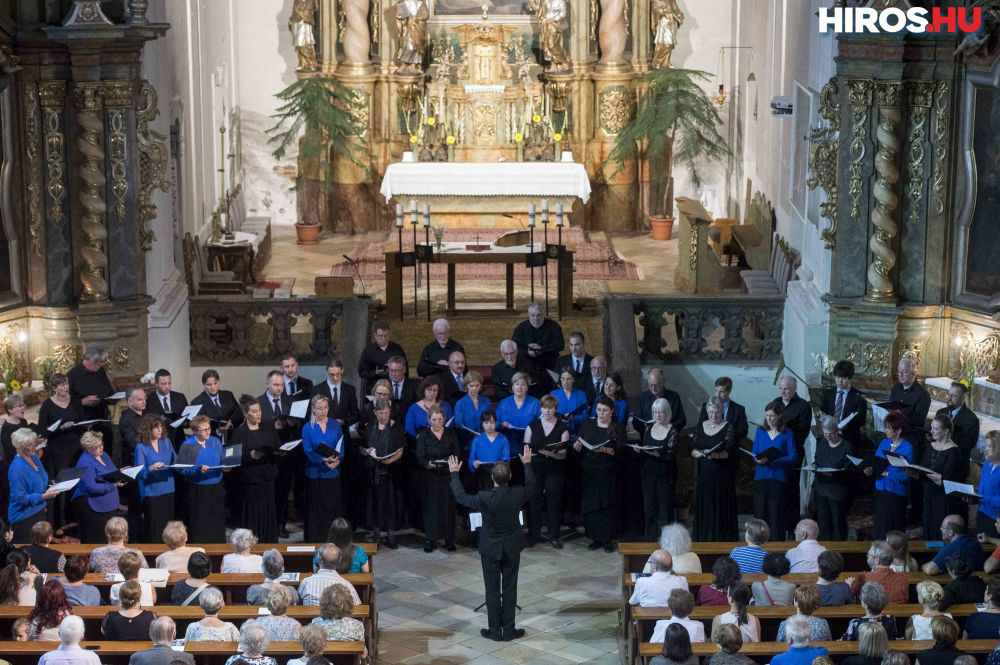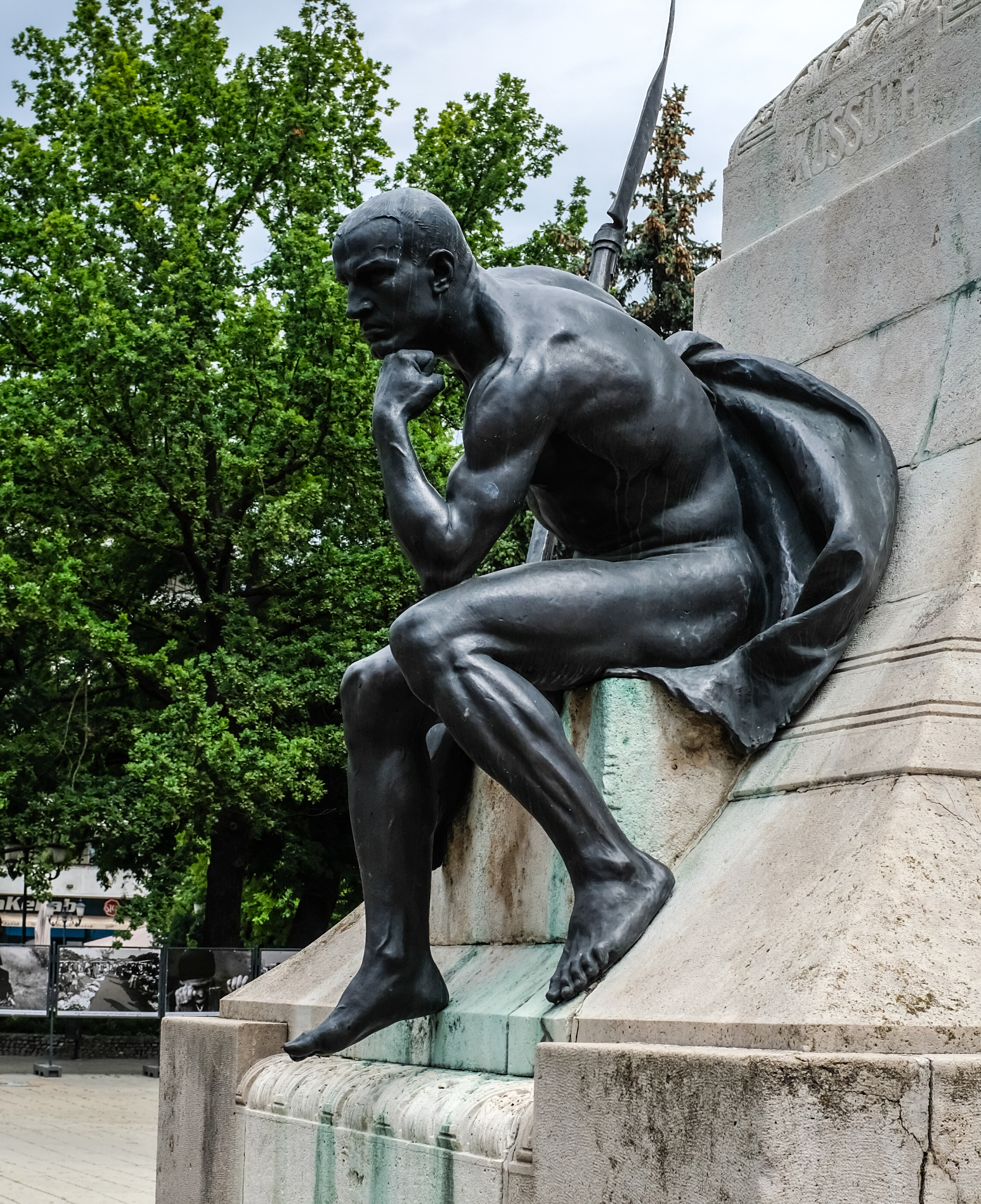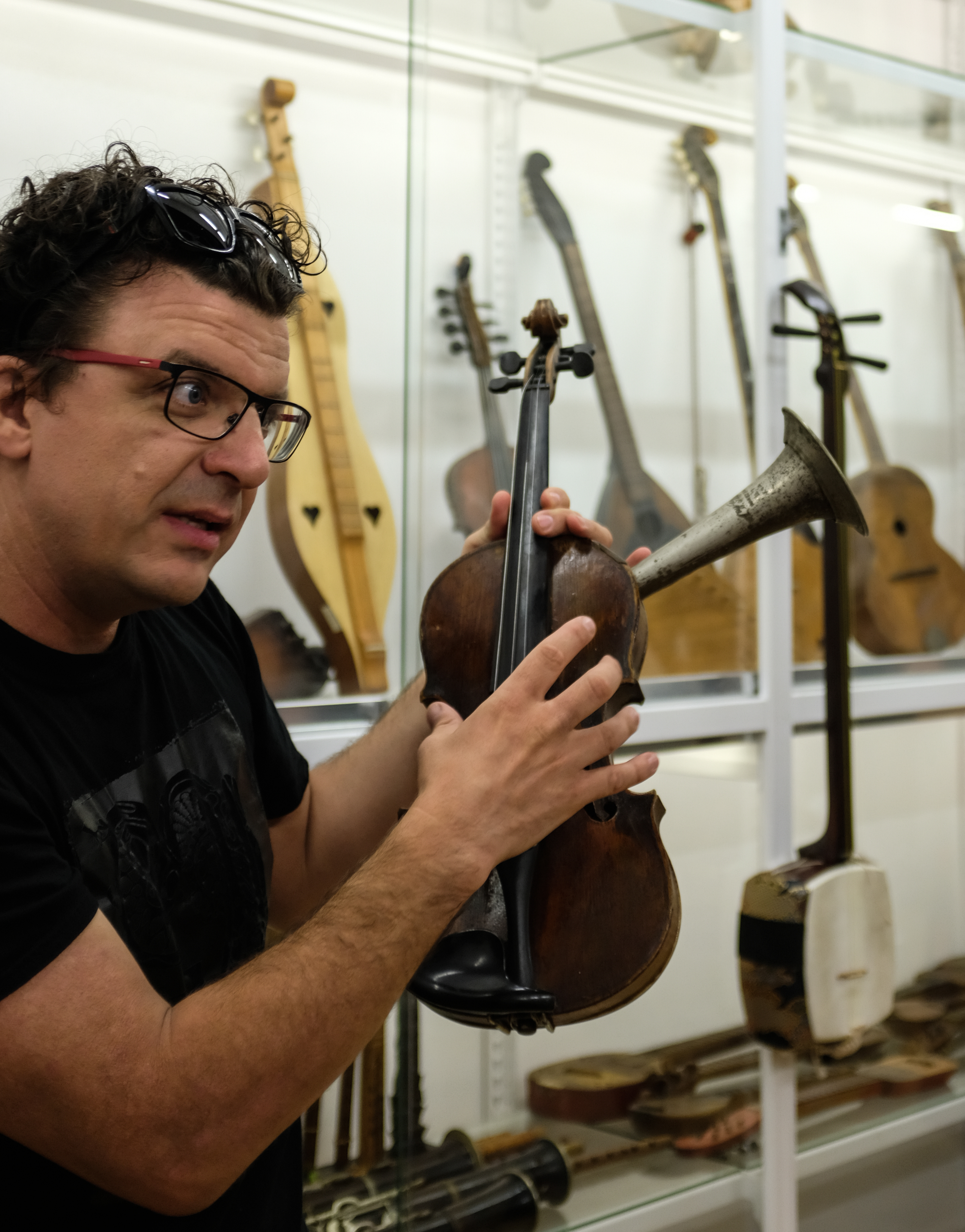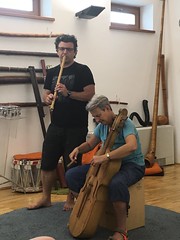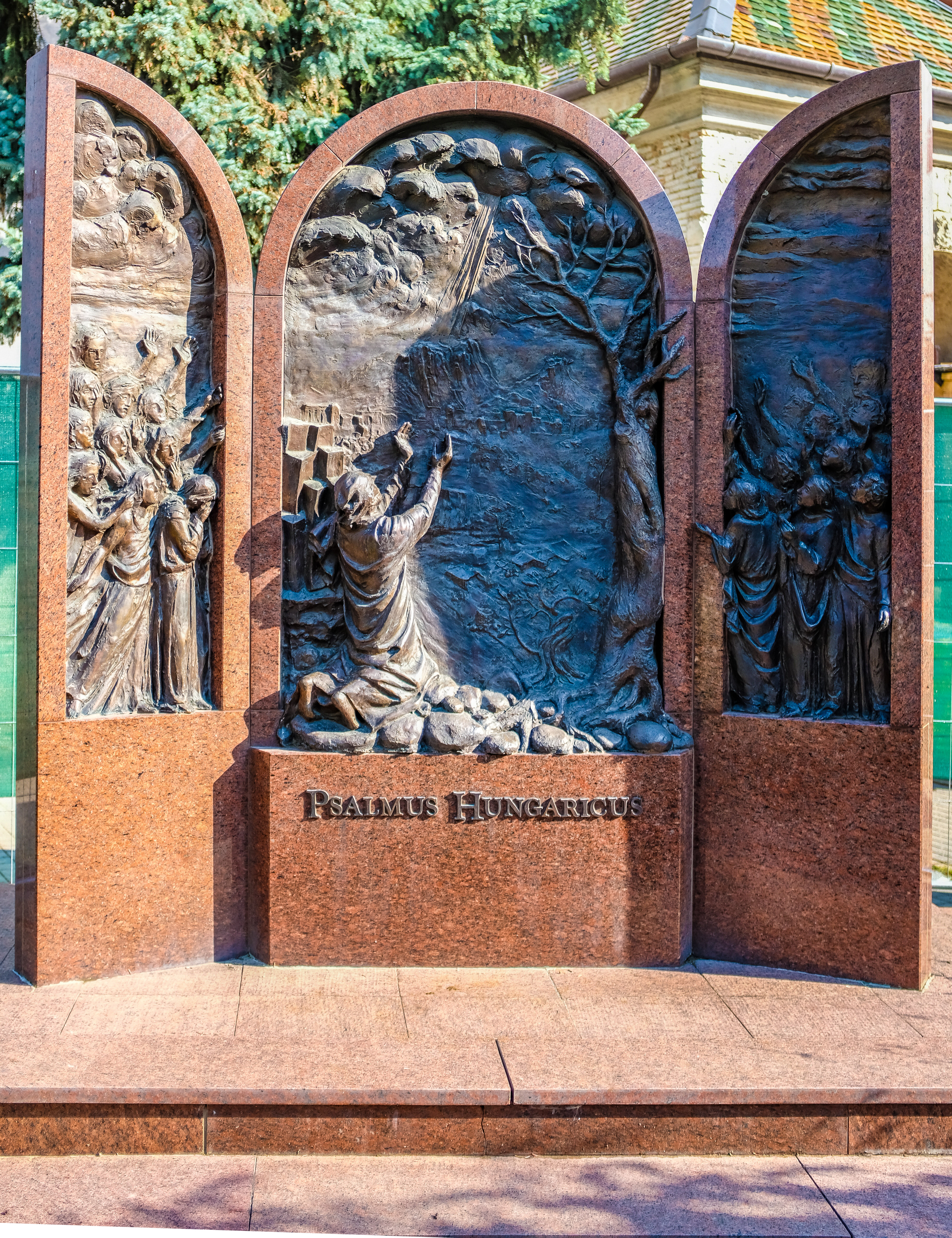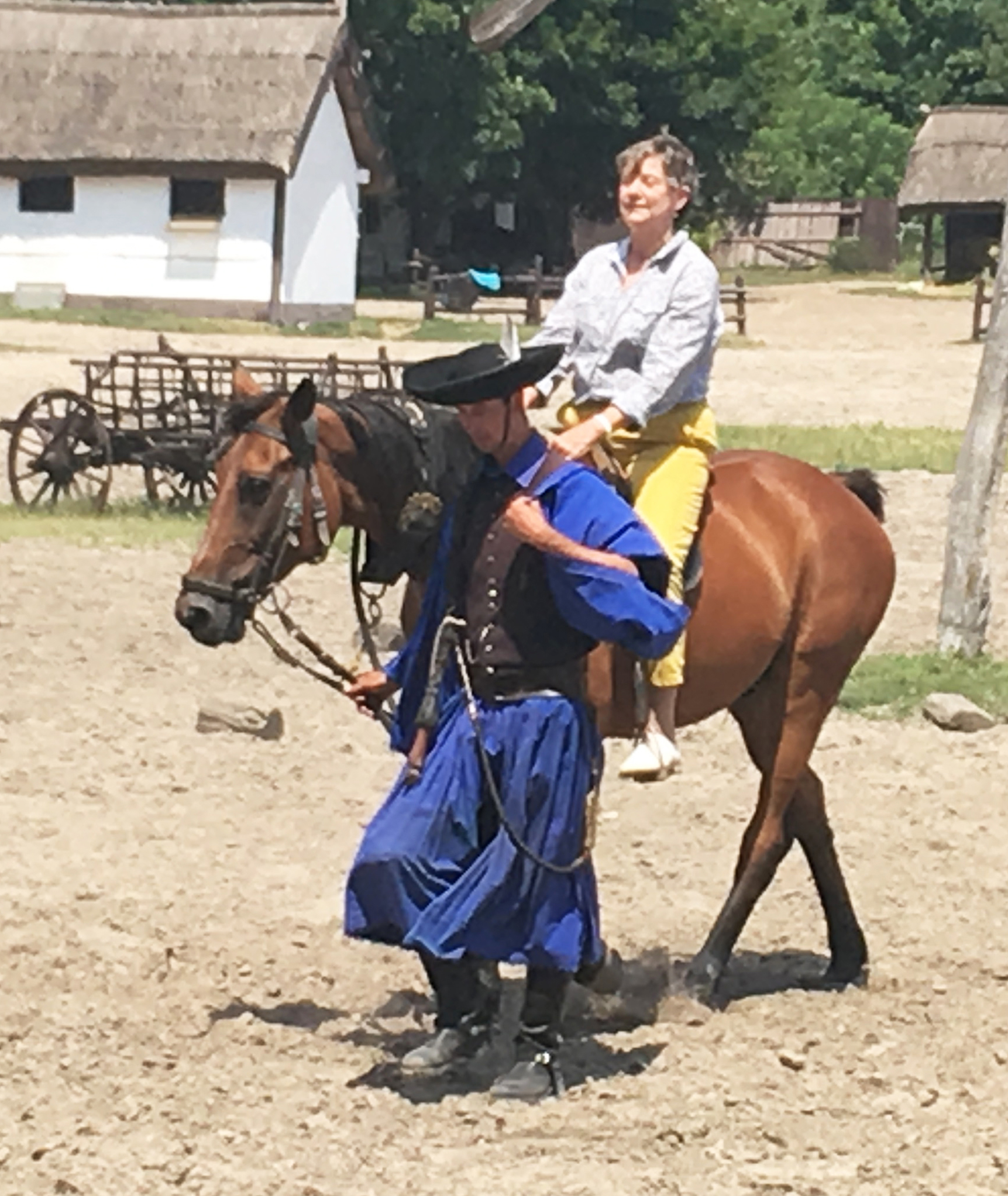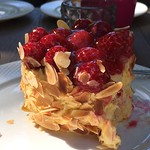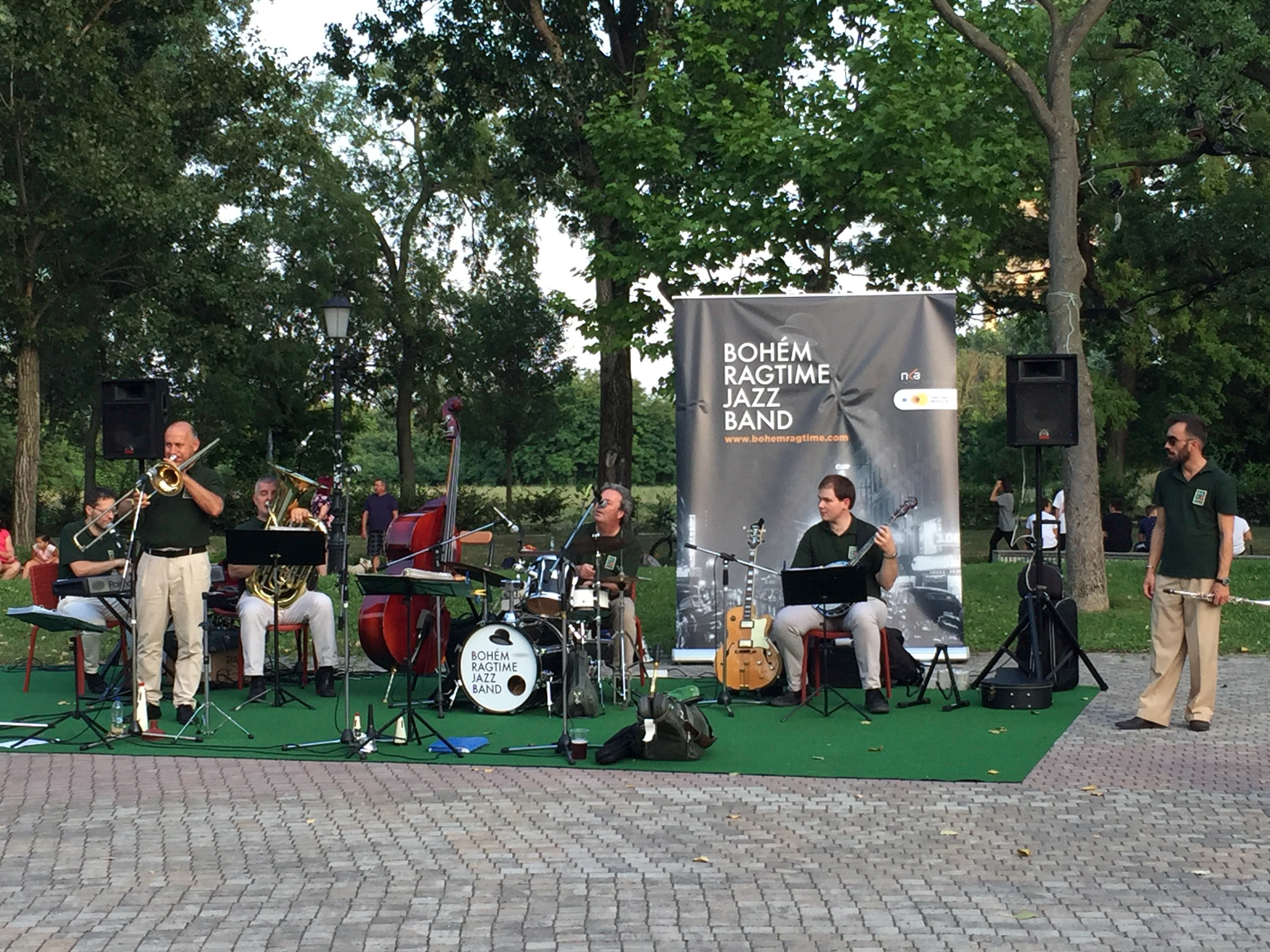 Voix de Vivre - some impressions from the Honorary President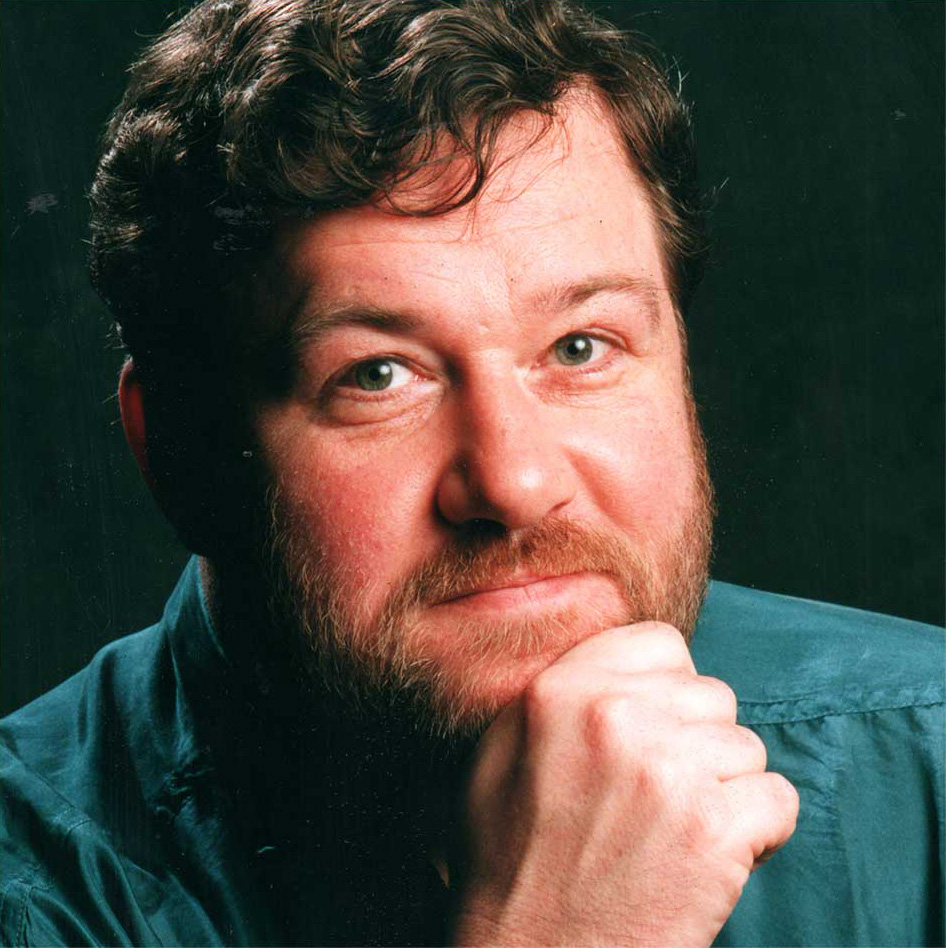 On the 13th July I took part, as is my great pleasure to do when required, in Voix de Vivre's concert of great German choral music. Reflecting on the evening's experience, I found myself asking what exactly is the value of such concert events. Not that I am in any doubt of their absolute value, but in this age when music is more often experienced as a pre-packaged consumer item, and with audiences for even the more familiar orchestral repertoire dwindling in number, how can we devotees of choral repertoire best communicate our enthusiasm for it to audiences and singers alike?

Leaving aside for now the widespread decline in appreciation of all forms of what used to be called 'classical music' – the European tradition of a structured, discursive music that can take audiences and musicians through an actual emotional and intellectual 'argument', - what can be said in support of its universal value, and in particular of its choral manifestations? Quite a challenge, when figures such as Jeremy Vine the TV presenter have recently publicly dismissed the whole subject as something which would interest only a few, mainly middle-aged, people. Looking around outside professional London circuits you could easily form the impression that his analysis is at least broadly factual, if unjust. By and large, both choirs and their audiences are not only dwindling but ageing.

There are two problems here; one is the general disinclination to engage with our common 'classical' heritage, the other the particular public perception of choral music. It is true that historically the choir has been associated with religious music on the one hand and with the once great local choral society tradition on the other, dating from a time of more defined and coherent communities. Choral music is now felt to be out of step with an age of rival leisure attractions now available to all (individually and privately) such as the telly and the cinema.

In the face of those problems I would point to a number of possible positives that could be urged. The first must entail a conviction on the part of dedicated practitioners of 'classical music' and their faithful audiences that this is a living and evolving heritage of absolute value to all humanity both in its content and in the way it is practised. Some repertoire may require homework on the part of its practitioners, and even of its audience, but that only serves to enhance its rewards.

As to the choral repertoire in itself, we must make it clear that its greatest monuments are as fine as any in the orchestral repertoire or in any other art form. At several points in history, choral composition has touched peaks as high as those found in any other musical medium, as Saturday's concert amply demonstrated. I speak as a professional musician of some 58 years (if one takes into account my daily drilling as a choral treble from the age of seven) who has experienced just about every medium from the inside and the outside, from the choral to the operatic, and as a hobby violin/viola player from the orchestral to the chamber repertoire. I say without any reservation that the works of Bach, Brahms and Schoenberg that were presented last Saturday to a select audience are, of their kind, as important and as towering as those composers' achievements in the better known media.

It is high time for choral music to cease to be the Cinderella of the 'classical' repertoire, and for the skills of today's amateur choirs, which seem to become increasingly refined even as their numbers dwindle, to be directed to the wider presentation of this remarkable and priceless ongoing heritage, and to the stimulation of new additions to it.

There is another value to this whole enterprise, equally or perhaps even more important in an individualistic and egocentric age. That is, the shared effort that music-making involves - and I include the audience in this. The performers' experience is of one kind, the listeners' of another, but both audience and performers are engaged in a joint effort to bring music to life. Music is not something written on a page; it only exists when human beings realise it (in this case their own bodies are the instruments) in collaboration with the composer, and he with whoever conceived the text. Nor is it a solitary affair; even when we make music alone we are in conversation with the composer.

In this way all music is heightened human communication which pre-supposes a listener, an audience. In this activity both performer and audience furnish their minds with objective beauty, intellectual nourishment or emotional release (most often all three together), and their bodies with physical engagement in the creation of those qualities. In making music we also make a precious space for self-forgetfulness in which we can meet communally on equal and objective terms, and, if I may sound a flippant note, give our egos a break. For all my joking, I cannot overestimate the value of this last benefit to both performers and audiences.

It is an honour to have been asked to be the Honorary President of Voix de Vivre, and I salute its efforts and honour its achievements in realising all I have alluded to above. My friendships with its conductor, a colleague of some 40 years, and with its most recent chairman, a singing 'pupil' (though I have little to teach him!) of more than 30, are amongst my dearest, and I hope I may long yet enjoy a beer with them while picking over past performances, planning programmes and generally keeping abreast of the choir's latest successes. Ad multos annos!

Jeremy White
New Experiences
Singers and audiences alike enjoy the well-loved repertoire. It is so nice to be bathed in familiar tunes that make you feel at home. Audiences rarely fail to be stirred by Faure's Requiem or Mozart's Mass in C Minor. For singers, it is often a relief to open the music and find that it won't be a sight-reading battle.
Sometimes though, choirs and singers prefer to live rather more on the edge. There are Musical Directors who commission new works or dig deeper into the musical archives to find pieces that challenge the singers and excite their audiences.
Fashion applies to composers and their works and it is often hard to keep your place in the sun. It seems hard to believe but the glorious creations of J.S.Bach lingered in the shadows for over a century until Felix Mendelssohn rescued them and brought them back to the attention of the music-loving public. Read more about it here.
It is wonderful to listen to a familiar favourite but, in my opinion, it is even more special to find something that speaks to you in a new way. We should cherish those moments when a piece of music surprises or challenges you, when the hair stands up on the back of your neck or tears spring to your eyes. It can take a bit of time, and you may have to sift through a lot of ordinary before you find the special, but the hunt is worth it. There is something heroic about the way that human beings strive to achieve perfection in performance and the journey is worth watching even when they don't quite make it. Occasionally we are rewarded, however, with a moment of beauty that lasts in the memory for the rest of our lives. I will never forget hearing Strauss's 'Four Last Songs' at a late night Proms performance in the Albert Hall. Even now, years later, I can close my eyes and recreate the feeling created by the perfection of the singing and the heart-wrenching message of the music.
Perhaps it is time for you to search out those moments and try to find music that pushes beyond the edges of your experience. There is probably a lot of opportunity in your local area. Why don't you try it? There is a great list of 'Underrated Masterpieces' here. You can find concerts near you on Concert Diary.
Lesley Blankfield